New trends in technology are popping up everywhere. From connected homes to diagnostic wearables to virtual reality simulation, we live in a world of ever-changing advancements in the way we see, hear and feel.
So, where are we headed next? Marketers have an opportunity to interact with consumers in ways unheard of just a few years ago. Taking advantage of some of these tech trends can really propel a brand to the forefront of top-of-mind awareness. At RFA, we're always looking for that "next great idea" that will separate our clients from the competition.
From virtual reality to blended reality
HP recently announced a new 3D printing technology, that combines scanning, gesture control, and touch screens to create designs that can be 3D printed. Originally designed for creatives and the like, HP has announced a new version of their blended reality computer designed for "immersive learning" and they're calling it the Sprout Pro. Great gift idea for Sally or Jimmy?
Seeing life in a new way
Use of 3D Technology in industry is evident everywhere. Whether it is entertainment, games or movies, companies large and small keep on looking for ways to use 3D technologies to offer a realistic view into a scene. Like the new exhibit at the California Academy of Sciences in Golden Gate Park that takes you on a 3D virtual exploration of the Amazon Rainforests. The exhibit let's you "Explore the Amazon rainforest from the lush forest floor to the dizzying heights of the canopy and all the way from space in an all-new, live 3D show." Amazing stuff!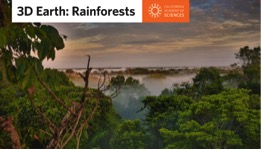 The Emerging Relationship Between Marketing and Augmented Reality